Years ago, when she was still a child – and queuing in the early hours outside a Soweto clinic for medical attention for her grandmother's...
Years ago, when she was still a child – and queuing in the early hours outside a Soweto clinic for medical attention for her grandmother's hypertension – Stellenbosch University graduate Boitumelo Theepe made a silent promise to herself that she would be a doctor one day.​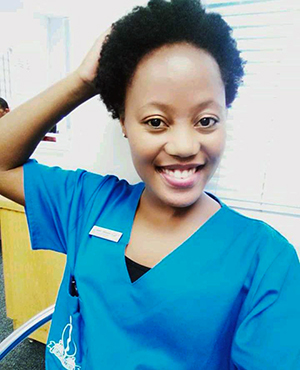 "One of my earliest memories was standing with my granny in the dark, so that we could be seen by the doctor that day. I thought, even then, that there must be a way to make a difference. If only there were more doctors, people wouldn't have to wait so long! It inspired me to become a doctor."
Theepe (24) attended the Oprah Winfrey Leadership Academy for Girls and went on to graduate as a medical doctor in December last year at Stellenbosch University's Faculty of Medicine and Health Sciences.
She is passionate about looking at ways to improve the structural functioning of South Africa's health system. "I am really interested in working out how we can put systems in place to release the burden on the healthcare system," she says.
She is also fascinated by science and "how the body works" and is currently working as a medical intern at Groote Schuur Hospital, practising general internal medicine. At the time of the interview, she was one week into her internship and "loving the work".
"I've been thrown right in the deep end, but it has encouraged me to learn to swim faster!
"We work with all the chronic lifestyle diseases – including TB, HIV and all infectious diseases requiring long-term management and a holistic medical approach, as well as collaboration with a range of specialists. It basically includes a little bit of everything in medicine.
"I love it, because we are the first people patients encounter when they arrive at the emergency department. For me, it is like solving a mystery. First, we have to calm them and make sure they are stable, and then make a diagnosis. We get to see a lot of the textbook conditions we studied in medical school. We see people when they are really seriously ill and try to get them back to baseline. Then we follow up, so they don't end up back here," says Theepe.
"What is also fascinating, is that a lot of the registrars and consultants are doing research, so the hospital is very up to date with a lot of information about diseases. There is just so much we can learn.
"I am so enjoying helping my patients, knowing that this is somebody's mother, somebody's father or somebody's granny who doesn't have to wait for medical attention."
Theepe was born in Soweto and raised there by her grandmother, Lydia Nonyana, because both her parents needed to go away to find work. Her father, Tahleho, is a mineworker and her mother, Arcilia, works as a merchandiser.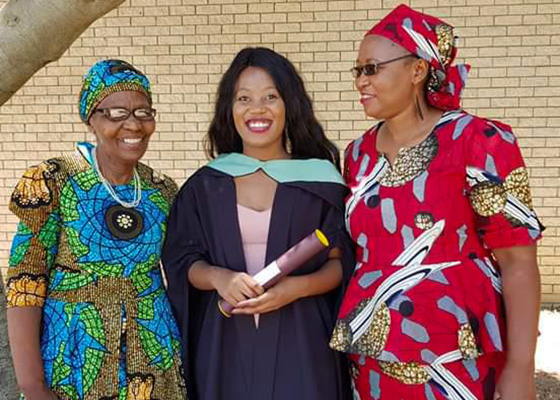 "My grandmother, who retired this year, raised my cousins and me on her salary working as a tea lady and running errands. She always encouraged me to work hard, never let me miss school and always helped us with homework where she could."
While she was in secondary school in Soweto, she was nominated by her teachers to apply for the Oprah Winfrey Leadership Academy for Girls. "I'd given a passionate presentation at school about the effects of HIV on society, and I think my teachers thought I should apply.
"We had to ask our neighbours to help us complete the forms, because my grandmother has a limited education. We did the best we could. Then the school called me and I went through several rounds of interviews. The final interview was with Oprah Winfrey herself. She handpicked us. In fact, we were the academy's first intake of girls – in 2007.
"I'd watched her show a few times, but I didn't know much about her. When I met her, I was struck by her beauty. She looked as if she had just jumped out of TV! She has a very warm, relaxed and funny presence."
Theepe will never forget the day she was told she'd been accepted by the academy. "Parents were crying tears of joy … We all hugged each other."
She ascribes much of her success to the academy, from which she matriculated with five distinctions. "Besides a strong focus on a good education, the school's core vision is servant leadership. We were encouraged to lead by example and give back to society. That was ingrained in us. The teachers were so dedicated. We were also privileged to have access to many extracurricular activities, as well as community service opportunities. The school allowed me to find out what I am good at."
The Oprah Winfrey Leadership Academy Foundation also assisted Theepe financially with her tertiary studies. Rebecca Miller Sykes, President of the Foundation, expressed delight about Theepe's success. "We are so proud of Boitumelo," she said.
"Everyone connected to the school and to the foundation is ecstatic for Boitumelo's graduation, because becoming a doctor will benefit her, her family, her community and the school.  Many young girls imagine themselves as doctors and Boitumelo proves that this dream seem more achievable to younger OWLAG students."
Sykes said Theepe's special qualities of persistence, patience, and eagerness to learn are good qualities to have as a doctor.
Asked what role she believes the academy played in Theepe's achievement, she said: "OWLAG students are selected for their intellect and leadership potential, so from the start Boitumelo was well poised to succeed.  The school then provides young women with the resources, opportunity and access to meet their goals.
"I have faith that Boitumelo will be able to make a positive impact on the lives of her patients.  As a doctor she will provide treatment that saves or improves the quality of their lives, and as a young South African woman she will stand as a reminder to everyone she encounters of the transformative power of education," Sykes added.
Asked about her future goals in medicine, Theepe said: "For the moment I'll focus on my internship, which offers hands-on experience in every discipline. After that, I'll pick a specialty.
"At the moment I'm interested in psychiatry and paediatrics. Beyond that I will continue being a health advocate, as a doctor and as someone who hopes to help implement systems to make the health system function better."
Theepe's interests include singing. She conducted Stellenbosch University's gospel choir last year. "I also like public speaking, reading, spending time with friends and exploring Cape Town."
Looking back on her life, Theepe can't help believing in destiny. "My life has been a series of events far beyond my imagination. One thing I've learnt is the importance and power of kindness."
Besides her parents, her role models are her grandmother – "she epitomes a quiet strength" – and Oprah Winfrey. "She basically changed the trajectory of my life. I not only admire her from a distance, but see her as a mother figure. Her love touches so many people. I hope I can be like that through my work in medicine."
Source Stellenbosch University