Former Group CEO of Mediclinic, Danie Meintjes, gave a riveting guest speech at the opening ceremony of this year's final graduations on 4 December 2018....
Former Group CEO of Mediclinic, Danie Meintjes, gave a riveting guest speech at the opening ceremony of this year's final graduations on 4 December 2018. "I know no-one who is both extremely successful and lazy. Hard work does not necessarily refer to long hours but to what you achieve within those hours."
Candidates from the faculties of Economic and Management Sciences and Education were told that there are no shortcuts to success; however, hard work can speed up the process of progress.
"This day marks a sense of achievement and an atmosphere of celebration," said Rector and Vice-Chancellor, Prof Francis Petersen. Indeed, the air was heavy with excitement punctuated by applause and ululations.

Graduates urged to prioritise mental health

Academia is extremely stressful. The degree and level of intensity that accompanies academic success often has a debilitating impact on one's psyche," said Dr Millard Arnold, our guest speaker at the final graduation ceremony on 6 December 2018.

The editor of Steve Biko: Black Consciousness in South Africa, and University of the Free State Council member, advised the 173 master's and doctoral candidates across all faculties to look after their mental health.
Moments before graduates were bestowed the highest honour that any university can offer, our Rector and Vice-Chancellor, Prof Francis Petersen, shared his sentiments on the value of goal-getting. "There is nothing more fulfilling than walking across the stage and being capped, conscious of the fact that you have achieved what you set out to do in your academic career."
Closing the 2018 graduations on a high note, Dr Khotso Mokhele,  UFS Chancellor, assured graduates that they have done a good job, by saying, "This is the pinnacle of education, it doesn't get any better than this".
Graduate professionals who can impact society
The procession of graduates, academics, and UFS management, led by flag bearers and drummers, announced the last graduation ceremony for graduates in the Faculties of Law and Natural and Agricultural Sciences. Two hundred and twenty-six graduates walked over the stage of the Callie Human Centre on the Bloemfontein Campus, with the words of Rector and Vice-Chancellor, Prof Petersen, fresh in their minds. "Three values I leave with you: critical inquiry, social responsiveness, and integrity. Take these values with you as you enter your professional lives."
Guest speaker Dan Kriek, who is a member of the UFS Council and President of Agri SA, motivated graduates to become leaders who will inspire South Africa. "You can all play a role to provide us with a better future," he said.
Storytelling is important for Human Science graduates

 It has been described as the culmination of your university career, the day you receive the degree you have been pursuing for three to four years. The 141 graduates in the Faculties of The Humanities and Theology and Religion were at this culminating moment yesterday when they received their degrees during the third ceremony of the December graduations.
Guest speaker for the ceremony, Ace Moloi – UFS Young Alumnus of the Year and author, impressed the audience with his 'Wows of Storytelling' speech; it was indeed a 'wow'. He shared his three wows of storytelling, namely that storytelling is a weapon of diversity, that storytelling is story taking, storytelling is a liberating experience. "I challenge you to go tell the story behind your scars at the end of this session. No, do not tell your story. Scream it. Broadcast it on every platform," he said.
South Campus graduands exhorted to "continue the journey of learning"

A total of 529 students from the South Campus received certificates and diplomas during the second session of the graduation ceremonies on the afternoon of 4 December 2018. The guest speaker was Lesedi Makhurane, from the Stellenbosch University Business School. Relating the lessons from World War I to modern challenges, Makhurane urged graduands to face changing ideas in the digital age with courage, to celebrate and enjoy graduating, while still remembering what it means to become a graduate and honouring those who have supported them thus far.
He exhorted the assembly to stand apart from the masses, making their unique voice count and developing their signature presence. Makhurane said, "Once you become a graduate, the flame of continuous education is ignited. Therefore, you must continue the journey of learning, becoming a specialist in your field."
4 December 2018
WATCH: 4 December 2018 (Morning Session)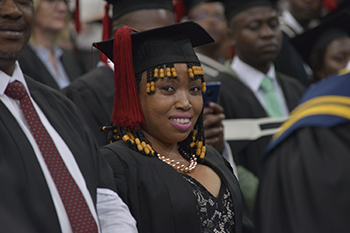 09:00 Economic and Management Sciences, Education
EMS and EDU Graduation Programme
"You now form part of the 58% of South African citizens who hold a degree,"-Danie Meintjies
Watch: 4 December 2018 (Afternoon Session)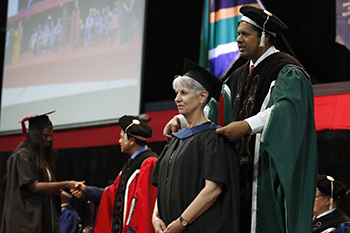 14:30 South Campus: Open Distance Learning
South Campus Graduation Programme
"'Nothing is more powerful than an idea whose time has come.' And the fact that you are all sitting here, is testimony to the hard work and effort, the energy, and the dedication you have put into the process of continuously becoming." – Lesedi Makhurane
5 December 2018
WATCH: 5 December (Morning Session)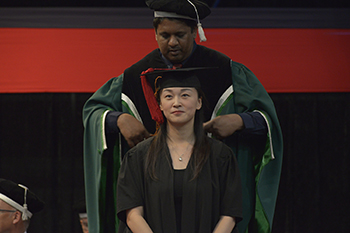 09:00 Humanities and Theology and Religion
HUM and THEO Graduation Programme
" …your qualification is a vital addition to society. You are the only graduates who are trained in human science-a science that is tricky, unpredictable and contradictory," – Ace Moloi
WATCH: 5 December (Afternoon Session)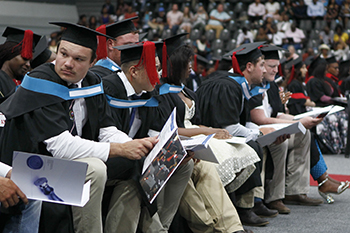 14:30  Law, Natural and Agricultural Sciences
LAW and NAS Graduation Programme
"You as graduates inspired me, your parents, yourself, your friends; and you will go on to inspire South Africa. We need young leaders who can inspire all of us," – Dan Kriek 
6 December 2018
WATCH: 6 December 2018 ( Morning Session)

09:00: Health Sciences (including School of Nursing)
Health Sciences Graduation Programme
WATCH: 6 December 2018 ( Afternoon Session)

14:30: Master's and Doctorates (all faculties)
M and D Graduation Programme
"Your success today does not mean that you are immune to the diabolical effects of depression and anxiety or schizophrenia."– Dr Millard Arnold

Source University of the Free State